Articles By Our Members
TUG Along
by Sandy & Rolly Nantel, November 2003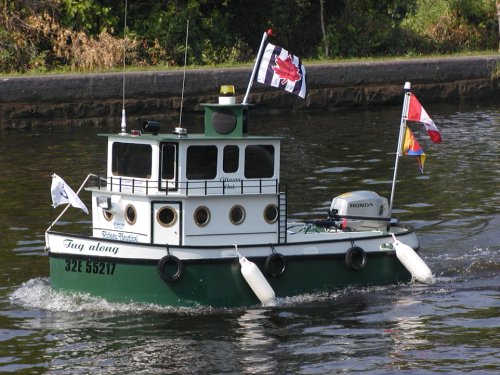 Tug along is a scratch built construction. The first construction started with a flatbed trailer on Saturday December 29, 2001 and then, worked every Saturday form January to May 2002 on the building of this "mini TUG boat".
Goal Setting
Goals are to entertain people with a fun miniature craft on water and possibly start a new trend of mini boats. This will surely be a different look on water and draw everyone's attention.
Accomplishments
The miniature tug boat "Tug along" was finished in time for the 2002 Ottawa Tulip Festival Canal Flotilla at the Victoria Day Tulip Festival.
Tug along won the "First Place" award in the Casino du Lac Leamy Parade of lights on Saturday May 18, 2002 & again on Saturday May 17, 2003.
Then won the "Peoples Choice" award in the Clarica Tulip Festival Flotilla on Sunday May 19, 2002 and again in the Sun Life Tulip Festival Flotilla on Sunday May 18, 2003.
On August 2, 3, 2002 Tug along took part in the in-water Antique Boat Show at Clayton NY and won the "Lewis Memorial "award for being the most entertaining and head-turning craft on the water.
Tug along is license as a pleasure craft with the Customs Canada, Canadian Coat Guard in order to ease the border crossing when participating in various events. CCG License # 32 E 55217
Future
Plans are to build a variety of miniature crafts during my retirement years.
Sandy & Rolly Nantel